We're back to a one page report again this month as other demands leave little time for updating the web site. I promise you a more full report next month when we will be able to let you know of the success (or failure) of the quality assessment and whether enough has been done to satisfy Lincolnshire Tourism, our grant providers. The interior of the Bull Shed is now complete and furnished but we have had massive problems getting Anglian Water to provide us with a supply. Six months from the first application and still no water.
Very little has changed on the Chaff House and Copper House as all efforts have gone into getting the drainage complete, the stripping, clearing and renewing of the roof over the main range and all the finishing touches required to complete the interior of the Bull Shed.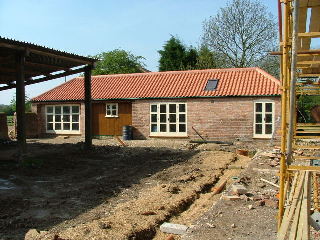 Rolling your mouse over this picture of the Bull Shed and Reception building will reveal the current view of the Chaff House and Copper House.
We have had some very wet days during April which was exactly what we didn't need. Apart from stopping outside work while it is actually raining there are all the problems of flooded trenches and extremely muddy conditions to deal with when it finally stops.
Despite the weather we did manage to get the new roof timbers back onto the Main Range and the flag has never stopped flying it's just moved on a bit.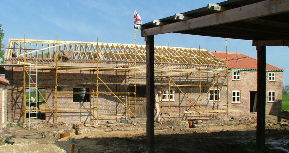 Call back soon for further updates.