What exactly makes four sane (subject to some debate) people sell their houses and combine their funds to share a house in the middle of a field?
I suppose after two years of being here there are far more reasons now than those that swayed us to buy the place. The initial reasons were quite straight forward. We wanted a place in the country, with some outbuildings, that had the potential to be converted into holiday cottages. Here we found it, and closer to home than any of us had first envisaged.
We moved in November 2000. Dark nights, short days, muddy tracks and a car ride to get anywhere. Not everybodys cup of tea!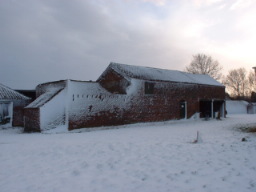 But even then, the clear nights with the abundance of stars, crisp frosty mornings with masses of birds on the feeders and the barn owl swooping over the front field all helped us realise that, yes, this was the place.
If there were any doubts during the winter, they certainly melted away in the spring. I suppose any garden is interesting the first spring you are there. But when there are eight acres of grassland surrounded by trees and hedges, you see something new every day. Cuckoo Flowers appeared in the front field accompanied by, logically, the sound of the cuckoo.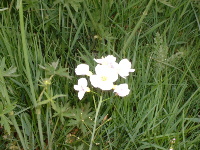 Long Tailed Tits blessed us with their presence and the Yellowhammer could be seen and heard in the hedgerows. We also found you didn't have to take the car to nearby Louth. A pleasant evening stroll could get you to the local hostelry in about half an hour, and back again in about an hour, I think it must be uphill on the way back!
So we are now starting our third spring and at last the project which we originally came here for, so that we can share these peaceful surroundings with our guests. This next twelve months is going to be tough and I'm sure there will be more than one occasion when we will need a reminder of how lucky we are!
Chris Berry - April 2003
UPDATE:-
The above was written at the start of the project. The next twelve months were tough but not as tough as the second twelve months! The Bull Shed was completed by May 2004 which satisfied our grant providers. However the total project was not fully completed until July 2005. And yes, there was more than one occasion when we needed a reminder of how lucky we are!
Chris Berry - November 2005
FURTHER UPDATE:-
After over 7 years of sharing a much in need old house, Tess and Daz decided they wanted their own 'front door' and the independence that comes with it. It was a tough decision and not one taken lightly. They now live a couple of miles down the road and we remain very good friends and visit each other frequently. So now the four sane people (subject to some debate) are down to two sane people, subject to even more debate!!
Chris Berry - March 2009