You probably can't see a lot of difference in the overall project as, from this angle, most of the work is still well hidden from view. Also, due to the delays in getting the finance in place, there is still only one person working full time on the project. I won't go into the nightmares of the paperwork involved in a project like this, but believe me it can certainly delay and dismay!!
Despite my little moan, work on the Bull Shed and reception area is progressing. As you can see from the picture the walls are getting restored and the concrete sub floors are now in place. A new doorway has been cut into the reception area and the existing doorway into the Bullshed has been bolstered up with the inclusion of a steel lintel.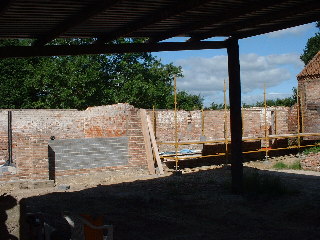 This picture shows the Bull Shed and reception area from the same angle as last month. The walls on the Bull Shed (right hand) are ready for lintels and the walls to the reception area are about half way up. The breeze block wall will eventually be clad with timber so that the old style of the buildings can still be maintained.
June was not a bad month weather wise, but I'm writing this on the 5th July when we haven't seen the sun for a week and it has rained every day of this month so far! The rain last Monday turned the yard into a virtual lake. Perhaps we should consider watersports. I hope my report at the end of the month is somewhat different!
This baby robin has been an almost constant companion during the month. Perhaps he's been hired by the building inspector to keep an eye on things!!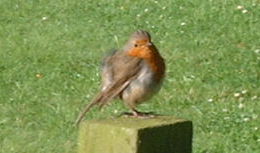 Call back soon for further updates.