It was decided that it would be best to phase the project and work got underway in May on Phase I, the reception area and Unit One which will eventually be known as the Bull Shed. This is the area to the left on the picture.
The roof was carefully stripped trying not to disturb the walls as these have to be retained as far as possible. The floors were then dug out to take the new concrete sub floors and insulation. The digging out was a time consuming process as the buildings still had all the remnants of its predecessors! Under this we found an unexpected supply of bricks which had been used as a floor and are the same type as the ones used for the building. These have been cleaned and stored for re-use. All these processes mainly by hand! This picture shows the floors during the hardcoring process.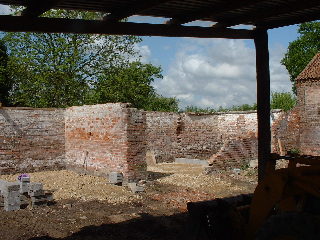 New up to date insulation is to be included in the floor which will help to make the cottages as energy efficient as any brand new house! Service ducts have been installed to bring in power and water.
After the mainly dry April, the inclement May weather was not a great help. However things are going just about according to plan and now we are out of the ground there should be some more visible progress to report soon.
We had just the one inquiry during May, but he was a bit of a sly character so we don't think we'll be taking a booking!!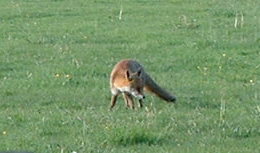 Call back soon for further updates.