Well the more astute of you will have already spotted the three stars on the main page. Yes, good news indeed, as we achieved our aim and satisfied the requirements of Lincolnshire Tourism, our grant providers. We also managed to get a water supply, thanks more to the site staff of Anglian Water than their terrible administration. It was all a bit last minute as the water was only connected the day before we were assessed.
The roof tiling on the Main Range is now complete and the elevations facing the courtyard are progressing well. We have also taken down the remaining tin roof which has opened up the court yard area and made the buildings more visible from the lane.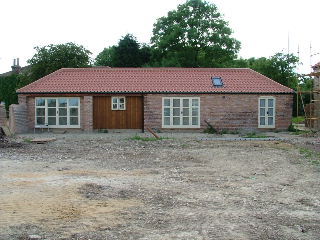 The Bull Shed and Reception building are now complete and the exterior work on the Chaff House and Copper House is almost complete. Roll the mouse to see the house. Just a bit of guttering to install and the painting to finish.
May brought us some pleasant sunny days, which was very nice for the 10 day break that I finally managed to get. It also allowed the roof tilers to get on well while I was away.
With the pressure of meeting the grant conditions finally out of the way, June will see a good clear up taking place in order that the grassland can have chance to return to its former glory.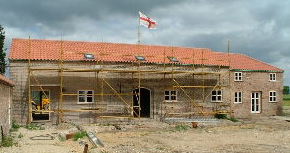 Call back soon for further updates.