Well the Bull Shed and Reception roofs are now back to their former glory, and, although you can't see it the damp course has been injected, wiring has been carried out and the bedroom ceiling of the Bull Shed has been plastered. How is this possible you may ask? Well the building equivalent of the cavalry has arrived. After yours truly being mainly on his own I have now had to relearn the art of conversation.
The Bull Shed is progressing well and with a bit of luck, it may be sealed up before the end of the year. The Chaff House and Copper House are also progressing and we are hoping that the reinstatement of the roof timbers will not be too far away.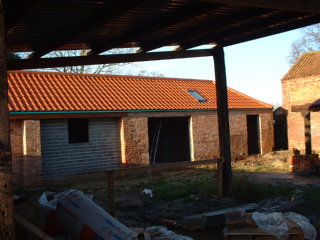 If you have been following the reports you should know what to do with the picture by now. The low sun at this time of year makes it difficult for me to provide you with as good an image as I would like, but you should be able to make out that the Chaff House wall now has a window in it. This has not been cut in, the wall was leaning so much that it had to be taken down to cill level and rebuilt! The front wall to the Copper House has also been taken down, new foundations and sub floors constructed, and is also in the process of being rebuilt.
Well some of the rain that we are told we need arrived in November. Moving materials around and dealing with ground works have made the place a bit of a mud bath at times. Fortunately we haven't actually lost much time and hopefully, with more men on the job, we may still be able to meet our targets.
I've managed to capture another one of those great views that we get here. This is actually a sunrise not a sunset and the grass did look a lot whiter with the frost than the picture portrays.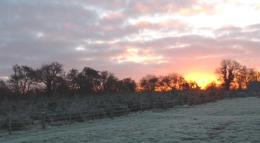 My next update will be next year. May I wish you a wonderful Christmas and lets hope that 2004 sees a more peaceful and settled world than 2003.
Call back soon for further updates.