Somewhere in the region of : 40 Tonnes of hardcore, 10 Tonnes of readymix concrete, 400 foundation blocks, 150 dense concrete blocks, 20 Tonnes of Sand & Gravel and about 150 bags of cement. And what can you see?? Very Little!! Ground works - hard work, extremely important, but very little for you to see. At least the roof tilers came back and altered the view of the Bull Shed.
The clay pantiles have now been loaded onto the roof of the Bull Shed and it shouldn't be long before the roof is complete and the scaffold can then come down, enabling damp proof injection work to commence.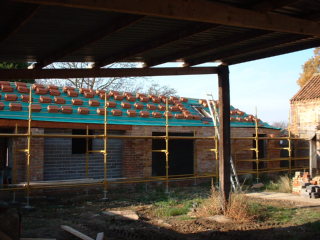 As with recent reports the picture on the right will change if you move your cursor over it. First you can see the Bull Shed with tiles loaded out. If you look very carefully at the second picture, showing The Chaff House, you should be able to see that there are some concrete floors. Believe me they are there. Maybe we should run a spot the difference competition!!!
I don't want to slow this page down too much so I won't clog it up with any more pictures. However if you're really interested in the foundation work then click here.
There was some rain in October, hopefully enough to help the crops along. But the weather on a whole is still being good to us. A little sticky under foot at times but I'm not complaining.
There have been a few of these kinds of view from Westfield but usually the camera is nowhere near or I am just too busy. This time I caught it just right, I just hope what you get from the picture is close to what I got from the real thing.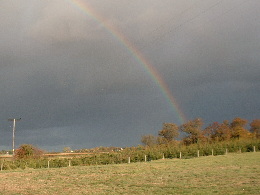 Call back soon for further updates.