The Bull Shed
Self Catering Holiday Cottage (Sleeps 2)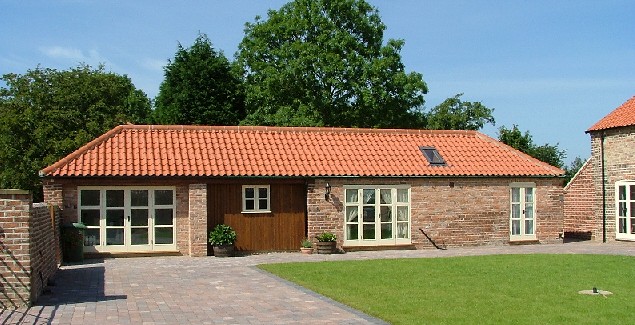 Stewton, Louth, Lincolnshire
The Bull Shed Holiday Cottage is the smallest (but by no means tiny) of our cottages and is situated in the right half of the building in the above picture. As the name implies it was once home to the Bull which was part of the herd of Lincolnshire Reds that once resided here. It's been cleaned up a bit since those days and in spite of its compactness the cottage still offers ample accommodation for two people.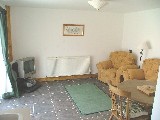 The Lounge has comfortable seating for two and a dining table with two chairs. It is equipped with a flat screen tv with integrated dvd play and radio/cd player.
Large French Doors with side lights look out onto the courtyard.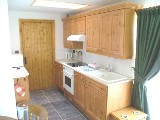 The open plan kitchen has an electric oven and hob, microwave and fridge with freezer compartment. There is also a comprehensive range of utensils available to enhance your self catering experience.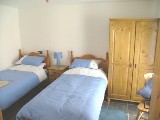 The bedroom has twin beds, a wardrobe and chest of drawers. French Doors again look out onto the courtyard. There is an ensuite shower room with large shower, toilet and handbasin. Bed linen and towels are provided with weekly change if required.
The whole cottage is centrally heated which is controlled by a simple thermostat in the lounge area. You can never be too sure of the British weather so the heating is available all year round 24 hours a day.
This is an ideal cottage for someone requiring a base from which to explore the surrounding area. If you require a bit more space or are planning to entertain while you are here, you may wish to consider the Chaff House Holiday Cottage
The Bull Shed was completed in May 2004 and was opened to guests in November of the same year. It is one of six cottages situated at Stewton which is two miles from Louth in Lincolnshire.
Extracts from the Bull Shed Visitors Book
"The accommodation is of the highest standard and provides everything you could possibly want"
"Location & accommodation are excellent if you are looking for a quiet break"
"A lovely cottage with every comfort one could wish for"
"A wonderful week at Christmas in the snug & warm Bullshed"