As you can see the flag is up again. If you have followed the story so far you will know that this signifies the roof timbers are complete and the roof is ready for the tilers. Also you may notice that the strange object that was sticking out of the ground on last months picture has disappeared. It has been re-sunk and is now being held down by 20 tonnes of concrete! Hopefully that will be the end of that adventure.
Plastering has continued in the reception and laundry areas and the ceilings in the whole of the west side have had their first coat of emulsion. The Chaff House and Copper House have the roof timbers complete and the window and door frames on the courtyard side are being installed.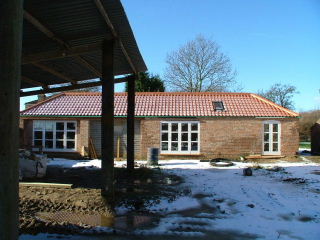 An old lean to has been cleared from the main range which allows a better view of the two buildings. Again, roll your mouse over the picture to reveal the current view of the Chaff House. Work has also commenced on the Main Range, this will provide three, two-storey cottages. The Cart Shed - a one bedroomed cottage, The Barn - a three bedroomed cottage and The Stable - a two bedroomed cottage.
The weather is still being very wintry, the wind has been in the north and east for about two weeks which has meant extra layers of clothing in order that work could continue on the roof. Frosty mornings have enabled ground work without chewing things up, but thawing snow and rain make things very muddy at times.
We return to 'proper' nature this month, with this picture that I managed to get of a blue tit feeding on the nuts. I have noticed some long tailed tits around as well but at the moment they are being a little camera shy.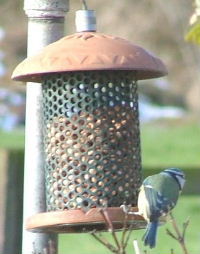 If you click on the nut feeder it will take you to page two of this months report with further pictures.
Call back soon for further updates.