Well I have kept a little secret for quite a while now. In a moment of madness about a year ago we booked out all six cottages for the weekend of 2nd and 3rd of July. Not just any old booking a wedding booking, and not just guest accommodation, the full hit!! The actual ceremony was not held here but Bride & Groom and some of the wedding guests were booked to stay here. Also an afternoon and evening reception were due to be held in a Marquee on the grounds.
To say it was a mad time would be an understatement, I realised as early as February that the timing was going to be tight so we stepped up a gear working long days and weekends. People kept asking me whether we were going to be ready and I couldn't, hand on heart say yes. Perhaps, even more frustrating, I couldn't, hand on heart, say no either! We had enough cottages completed to sleep eight, including the sofa bed in the Chaff House, but the main range which would sleep the remaining twelve still needed a great deal of work.
The difficult decision for yours truly was whether to keep trying to finish all three, which ran the risk that all three may not be finished, or concentrate on the two larger ones and abandon the Cart Shed until after the wedding. This would have probably guaranteed completion of the Barn and the Stable. However the Cart Shed was supposed to be the Bridal Suite, arghhh!!!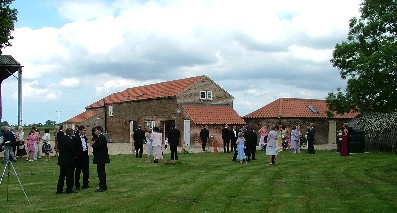 So we went for it full force and tried to complete the three. At the beginning of June we still didn't have any of the back three complete. Even more frustrating was the fact that it was still not beyond reach, so even at this late stage we were not comfortable to abandon the Cart Shed in favour of the Barn and Stable. As a piece of insurance we did book another cottage in Louth, just in case!
We move through to the third week in June, the Stable is looking good, the Barn is looking hopeful and the Cart Shed is looking like a workshop. I really do not know how we all kept going, I think by this time we were running on pure adrenalin. I am sure that a lot of the trades thought they would never be faced with this final push, but suddenly everyone realised just how close it was going to be and no one wanted it to be their trade that let the side down. Plumbers, Plasterers, Electricians, Joiners, Stair Fitters, Floor Tilers and of course ourselves decorating, furnishing and equipping the cottages all fell over each other each reluctant to be the one that let the side down.
We got there. At six o'clock on the Friday evening we moved out of the Cart Shed. It was finished, not completely, but it was finished enough.
The Wedding Day went perfectly, the weather was perfect, the guests were perfect and it was a great and fitting end to a project that had taken more than it's fair share of blood, sweat and tears. The highs of my life, that was certainly close to the top, sat in a tent (for we were guests also), in the middle of what was recently a building site, watching a very happy and appreciative couple start what I hope will be a long and lasting relationship.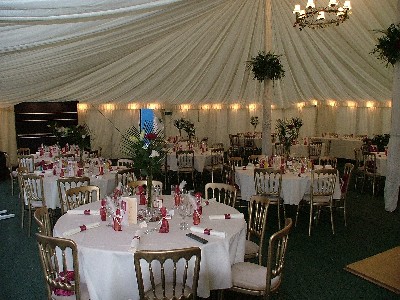 A couple of phrases were repeated a few times during those last days and weeks, "Don't ask me I'm just the Digger Driver" sorry lads, and "It should have been on the telly"
It certainly would have made good viewing, but I fear the "Digger Driver" may have demolished a film crew or two!!
I would like to thank everyone involved in the project, a full list of their names appear here. Please feel free to contact them for any building requirements in Louth and the surrounding areas, they are a good bunch.
Written by Chris Berry, December 2005.
And yes I did need a reminder of how lucky we are.